Quartz cataclasite fault rocks, Loch Assynt
The photographs below are progressively more detailed illustrations of the Skiag Bridge back thrust fault developed in Cambrian Pipe Rock Quartzite at Loch Assynt, NW Scotland. The fault has a displacement of ~1m accommodated on an ~30cm wide displacement zone. However, deformation extends for considerable distance (~6m and ~4m respectively) into both the hanging and foot wall rocks. The fault zone has been extensively sampled and the fault rocks have been studied via a variety of techniques, including optical, cathodoluminescence, SEM, EBSD and TEM microscopy, to arrive at a model based on grain indentation.
For further details, see the original micrographs and descriptions in: Lloyd and Knipe. 1991, Journal of Structural Geology, and Knipe and Lloyd, 1994, Pure and Applied Geophysics.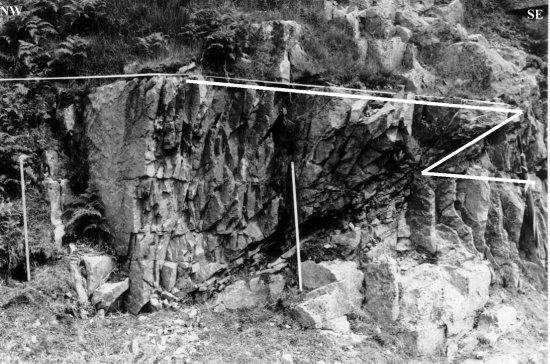 The Skiag Bridge backthrust fault in Pipe Rock Quartzite. The zig-zag line highlights a single sedimentary layer from which many samples were collected. Note the damage extends in to both the hanging and foot walls. The poles are 1m in length.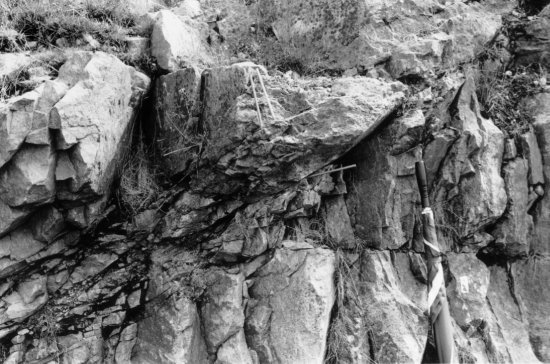 Detaile of the region adjacent to the main displacement plane. Note the 'foliated' appearance of the fault rock.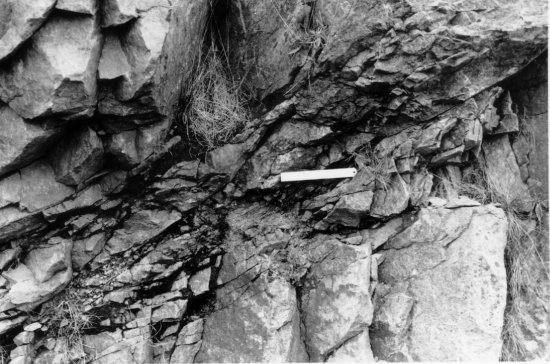 The main fault displacemnent plane: not fault blocks and fine scale gouge.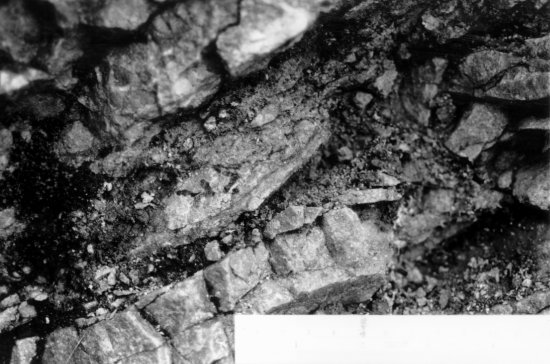 Individual fault blocks and gouge.