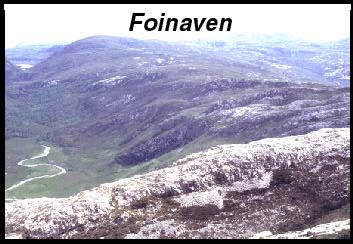 Photograph, repetitions of Pipe Rock, looking back down tectonic transport in lower Srath Beag.
Link to map, views and cross-sections
In contrast to the Eriboll area, the ground to the south of the loch shows continuous exposures from the orogenic foreland to the Moine Thrust. Consequently it is possible to trace the increasing complexity in thrust interactions upsection. This attribute makes the site crucial for quantifying displacements in the footwall to the Moine Thrust and thus for putting some lower bounds on estimates of the original across-strike width of the Cambrian shelf in NW Scotland (Butler & Coward 1984). This type of estimate is important for large-scale speculations as to the deep structure of the Caledonian orogen in northern Scotland. The Foinaven site, along wit the neighbouring areas at Eriboll and elsewhere along the north coast of Scotland are key in relating surface geology to marine deep seismic reflection data.
The mountain of Foinaven, together with its neighbours of Arkle and Cranstackie, is composed of Cambrian quartzites. These support relatively little vegetation and therefore provide truly exceptional exposures. This mountain wilderness contains some of the finest 3D exposures anywhere of thrust system architecture, a feature recognised by including the world type-example for a specific duplex structure. However, despite all this, the area has been neglected by modern researches so that much of the ground south of the ridge of Conamheall has not been studied by anything other than reconnaissance methods since the 1880s.