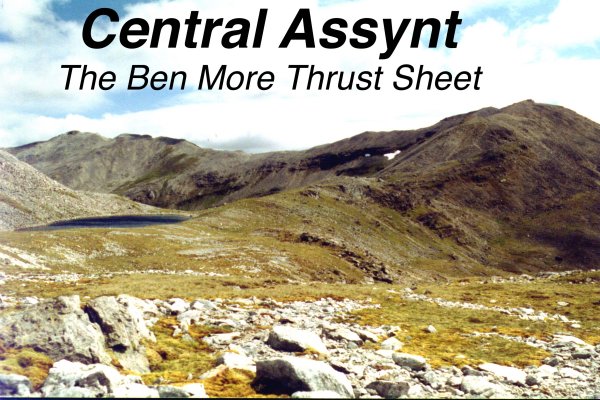 CENTRAL ASSYNT
[BEN MORE, CONIVAL AND NA TUADHAN (NC300220 -NC322197)]
Of all the segments of the Moine thrust belt, it is the Assynt district that is the most internationally known. The district's classic status has been promoted by the Geological Survey, initially through the preparation of a three dimensional model exhibited in its offices and museums, and then by the publication of the special Assynt 1:63360 geological compilation map (Peach et al., 1923). The culmination owes its existence to two thrust sheets that contain Lewisian gneisses. The upper of these structures is the Ben More Thrust sheet, exposed on the highest ground in the county of Sutherland.
The Ben More Thrust is one of the major structures of the Moine Thrust Belt. Exposures in its type area around the head of Coire a' Mhaidadh are critical in relating the geometry of the thrust to structures developed in its hangingwall. Folding relates to thrust stacking and to buckling as thrust ramps climbed out of the Lewisian basement into the Cambrian cover. The Ben More Thrust Sheet preserves critical relationships between Torridonian and Lewisian units that can best be explained in terms of Caledonian deformation acting upon pre-existing Precambrian extensional faults probably formed during Vendian rifting. The presence of these early faults is very important in the evaluation of pre-Caledonian palaeogeography across northern Scotland and through the North Atlantic region. Although the Loch Ailsh igneous complex cuts these early faults, all demonstrably Caledonian folds and thrusts deform it. These relationships, linked to radiometric age dates, provide an important constrain on the timing of deformation within the Moine Thrust Belt.
On Na Tuadhan (NC 304215) there are spectacular folds of Cambrian quartzites that lie in the hangingwall to the Ben More Thrust. These famous structures (Peach et al., 1907, frontispiece; Johnson and Parsons, 1979, fig. 7) face WSW and include earlier imbricate thrusts. This imbrication has carried the quartzites onto poorly exposed fucoid beds by a combination of fore- and back-thrusts. The imbricates splay from a floor thrust, named here the Coire a' Mhadaidh thrust, that can be mapped across the corrie to where Lewisian gneisses are carried onto a thin slice of Cambrian quartzites (NC 310205). Presumably the Coire a' Mhadaidh thrust itself splays from the Ben More Thrust at depth.