Continental Tectonics
A Discussion Meeting in memory and celebration of the life and work of Mike Coward
Thursday 27th May - Friday 28th May 2004.
Held at; The Geological Society, Burlington House, Piccadilly, London.
Convenors: Alastair Beach, Rob Butler, Rod Graham, Rob Knipe, Ken McClay, Alison Ries and Simon Stewart.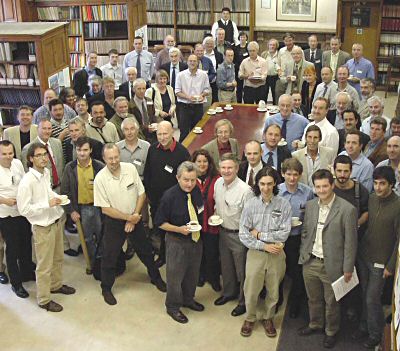 Some of the participants at the Mike Coward meeting. Photograph courtesy of Ted Nield
This meeting attracted over a hundred geologists from all over the world and from all the niches of academia and industry. Most of the presentations were made by Mike's former students and colleagues. Quite apart from the presentations, the coffee breaks, wine reception and Chinese meal on the Thursday night saw great discussions. Topics ranged far and wide, as befitted a meeting in Mike's memory. You can get an idea from the programme below.
Special Publication
Arising from the meeting there is a plan to publish a collection of papers in a Special Publication of the Geological Society (subject to final ratification by the Publications Committee). The deadline for submissions of manuscripts is end September 2004.
Titles and expressions of interest should be sent to Alison Ries (riescoward@dsl.pipex.com).
Pre-conference field trip
The meeting was preceded by a field trip to NW Scotland. There is a report on this, with photographs, reference lists and other information available.
Programme
THURSDAY 27 th May
Session 1: chair - Rob Knipe
Rod Graham
Mike Coward's early days - the Lewisian and what he made of it
Mike Searle
Stretching the limits of balanced and restored cross-sections
Frank Peel and Gillian Apps
To see a world in a grain of sand - Using the sedimentology of Tertiary deposits around the Barrot Massif to constrain the geometry and evolution of deep thrust systems (External Alps, Haute Provence, SE France)
D. Gapais, J.P. Brun, & P. Choukroune.
The South Armorican Shear Zone revisited
Session 2: chair - Martin Casey
Jorge Acosta, Francisco Velandia, Jairo Osorio, Lidia Lonergan, & Hector Mora.
The Northern Andes- a transpressional mountain belt.
Alan Gibbs, Armelle Kloppenburg, Juan Carlos Alzate and German Rodriguez Charry
Building a discrete fracture network based on the deformation history: A case study from the Guaduas Field, Colombia
William Sassi, Ralph Gillcrist, Rod Graham & Mike Adams
The impact of deformation timing on the prospectivity of the Middle Magdalena Subthrust, Colombia
Peter R. Cobbold
Style and timing of Andean deformation, reactivation and inversion at the scale of South America
Session 3: chair - John Warburton
Bob Holdsworth & Rob Strachan
Out of sequence structures in the Northern Moine Thrust Zone: low-angle extensional faults or something else ?
R.D. Law, B. Cook, M. Jessup, & M.P. Searle
Strain symmetry and vorticity of flow in mylonites from the Caledonides (Norway, Scotland) and Greater Himalayan Slab (Everest massif): implications for space problems, extrusion and exhumation
Peter Treloar
Extensional tectonics in the NW Himalaya: channel flow or not?
John Wheeler
Simple shear, folding and extension
Rob Butler
The deep structure of orogenic belts - revisited
Session 4: chair - John Ramsay
Leslie Wright
Diamonds and Tectonics in west Africa
R.J. Knipe, S.F. Freeman, S.J. Jolley, G.M. Phillips and A.C. Barnicoat
3D evolution and characterisation of ore bodies.
Beeson J., Neilson I.E., Standing J.G., Willson M.J. & Coward M.P.
Towards a 3-Dimensional common earth model for the Laverton Greenstone Belt, Western Australia.
Alastair Beach and Roric Smith
New frameworks for mineral exploration: the Witwatersrand basin
John Muntean, Michael Coward, Charles Tarnocai and Andrew Jackson
Palaeozoic Normal Faults in North-Central Nevada: Deep Crustal Conduits for Carlin-type Gold Deposits
Rick Sibson
3-D structural permeability affecting fluid flow in convergent orogens .
FRIDAY 28 th May
Session 5: chair - Rob Butler
Alastair Robertson, Timur Ustaomer, Osman Parlak, Ulvican Unlugenc, Kemal Tasli and Nurdan Inan
Unravelling the Late Cretaceous-Early Tertiary tectonic evolution of South-Neotethyan suture zone in SE Turkey: implications for the processes and timing of closure and collision of Arabia and Eurasia
J. Hossack & the BP Turkish Black Sea Team
The tectonic evolution of the Black Sea
Brian F. Windley, A. Kröner and Wenjiao Xiao
The Tectonic Evolution of Central Asia
I.C.W. Fitzsimons & B. De Waele
Precambrian crustal lineaments in Africa: Using precise U-Pb geochronology to test correlations across shear zones
E.H. Rutter, K.H. Brodie and T. James.
The structure of the upper part of the Ivrea-Verbano crustal cross section, NW Italy.
Session 6: chair - Lidia Lonergan
Mark G. Rowan
A regional approach to tectonostratigraphic issues in the northern Gulf of Mexico.
Bruce Trudgill
The Evolution of Paradox Basin and its place in the tectonic puzzle of the ancestral Rocky Mountains
Ian Davison
Faulting in Salt
Simon Stewart
Salt Tectonics in the central North Sea
Session 7: chair - Ian Vann
Ken McClay and A. Amilibia
Inversion orogens
Giulio Casini, Enrico Tavarnelli & Francesco Antonio Decandia
A new class of duplexes, and its bearing on the interpretation of the deep structure of collision mountain belts .
Jonathan Turner, Simon Holford, & Gareth Williams
Kinematic model for the Cardigan Bay-St. George's Channel basins, offshore Wales: implications for understanding intracratonic uplift
Phil Allen, Steve Buckner, Alan Gibbs, Colin Turner
The "Continuing Evolution" of concept on the origin of the Brae Field Structures (UK Quadrant 16)
Session 8: chair - Rod Graham
Mark Cooper
Hydrocarbons in fold and thrust belts: a global review
Mohammad Sepehr & John Cosgrove
Partitioning and compartmentalisation of deformation in the Zagros Fold-Thrust Belt
Alan Chambers, Chris Izatt and Mike Coward
Structural evolution of the external Himalaya of northern Pakistan : thrust front styles, thrust interference and stratigraphic controls.
John Warburton
Passive roof duplex model and its application in fold belt exploration in Pakistan
M. Daly, S.J. Matthews, J Goff, and C Ruiz.
Detachment, and a future for Middle East Petroleum Exploration
POSTERS
Ian Alsop & Jose Carreras
The geometry and kinematics of small-scale sheath folds: a case study from Cap de Creus, Spain.
Ian Alsop & Bob Holdsworth
Flow Perturbation folding in shear zones
E. J-P. B lanc , M.B. Allen , & H. Hassani
Crustal fault geometries in the Zagros, Iran
Martin Casey and Rob Butler
Modelling fold development
Wanida Chantong and Rob Butler
Inversion Tectonics and structural evolution in the Khorat Plateau, Thailand.
Richard Corfield
Origin and emplacement of the Spontang ophiolite and crustal shortening processes in the Ladakh-Zanskar Himalaya
M.A. Edwards & L. Ratschbacher
Looking down on velocity weakening? Evidence from differentially exhumed domains of a presently active intraplate wrench fault in Tibet
Anongporn Intawong, Chris Elders & Gary Nichols
Structural Style of the Chumphon Basin and its relationship to the Khlong Marui Fault, Gulf of Thailand
Richard Jones & Robert E. Holdsworth
Strain Compatibility & Continental Tectonics - do Upper Crustal Rocks represent a Mechanical Continuum?
Stefano Mazzoli, Peter Shiner, Giovanni Deiana, Pietro P. Pierantoni, Francesco Borraccini, Giuseppe Cello, Werter Paltrinieri
Interaction between thin-skinned and thick-skinned thrusting in the Apennines (Italy)
Adam J. Robinson
Interpreted Structural Geometries as a result of Progressive Deformation within the margins of the Bushveld Igneous Complex: Bafokeng North Mine, South Africa
D.J. Tatham, R.W.H. Butler & G.E. Lloyd
Towards imaging ductile deformation in the lower continental crust
Vitale S. and Iannace A.
Continental collision-related strain localization in the carbonate successions of northern Calabria (southern Italy).