School of Earth and Environment
Cohen Research Group: Laboratories
Introduction
This integrated laboratory suite has been designed and built for geochemical research in all areas of environmental geosciences.
The facility opened in Spring 2010 and provides a suite of purpose built laboratories for undertaking multidisciplinary biogeochemical research. The laboratories providing facilities for activities including:
Hydrogeochemistry;
Mineral synthesis and reactions;
Geomicrobiology;
Isotope geochemistry; and
Trace metal analysis of environmental samples.
A breakdown of the laboratories that make up Cohen can be in the left hand menu. We have a variety of equipment available for our users and for external users on request.
Dedicated technical support is provided within the laboratories in order to provide logistical support, assistance with analysis, and method development research.
Enquires about the use of these facilities for research or industrial consultancy should be directed to Caroline Peacock.
Please click on the laboratory names in the image for more information:
Level 9 Cohen Laboratories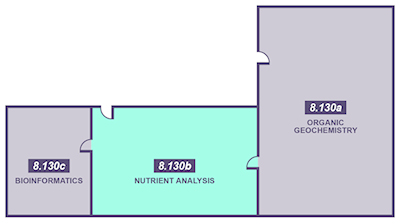 Level 8 Laboratories
Further Information
Contact: Dr Caroline Peacock
Telephone:+44(0) 113 34 37877