School of Earth and Environment
Sustainability and Environmental Management BSc
(Full time) 2019 start

Overview
Key facts
UCAS code: F7M0
Start date: September 2019

Duration/Mode: 3 years full time
Typical A level offer: ABB
(specific subjects required)
UK/EU fees: To be confirmed
International fees: To be confirmed
Study abroad option: Yes
Work placement option: Yes
Sustainability and Environmental Management BSc explores the environmental, economic and social implications of our decisions and attempts to find sustainable solutions to environmental problems.
Drawing on environmental science and ecology, you will develop your knowledge and skills in the science underpinning environmental issues. At the same time, learning opportunities in politics, economics, policy and law help you to evaluate societies' role in, and interaction with, changes in the natural world.
You'll be trained in data collection and analysis and will refine your research skills in a research project and through hands-on field training.
A wide range of optional modules, such as environmental politics, climate change and sustainable consumption, reflects the breadth of expertise in the School. Pathways allow you to develop specialist knowledge and skills, which can help you succeed in the employment market.
Research-led teaching by experts
Teaching draws on the research expertise of academics in the School, in both environmental, natural and social science. Research takes place across the globe, from low-carbon cities in the UK, to resource governance in sub-Saharan Africa, to conservation in Patagonian rainforests. Read about research in the Sustainability Research Institute.
Extending this degree
You can convert your 3-year degree into a 4-year degree by spending an additional year on an industrial placement or overseas, before returning to Leeds to complete your final year of study. Read "Study abroad and work placements".
We also offer an Integrated Masters (combining bachelor and Masters level study), where you spend a year studying abroad at a partner university and return to Leeds to study Masters-level modules in your final year. Read Sustainability and Environmental Management (International) MEnv, BSc.
Enhancing your experience
We want to help you make the most of your time at Leeds. The School has an officer dedicated to Student experience.
School of Earth and Environment
If you study in our School of Earth and Environment you'll join one of the largest and most vibrant schools in the country.
Accreditation
This degree is accredited by the Institute of Environmental Management and Assessment (IEMA). Accreditation by the industry body enhances your CV and can help you stand out from the crowd. We're the only Russell Group University to offer an IEMA-accredited undergraduate degree. This means that you are also eligible to take-up free student membership.
On successful completion of this degree you automatically qualify for Graduate Membership of IEMA.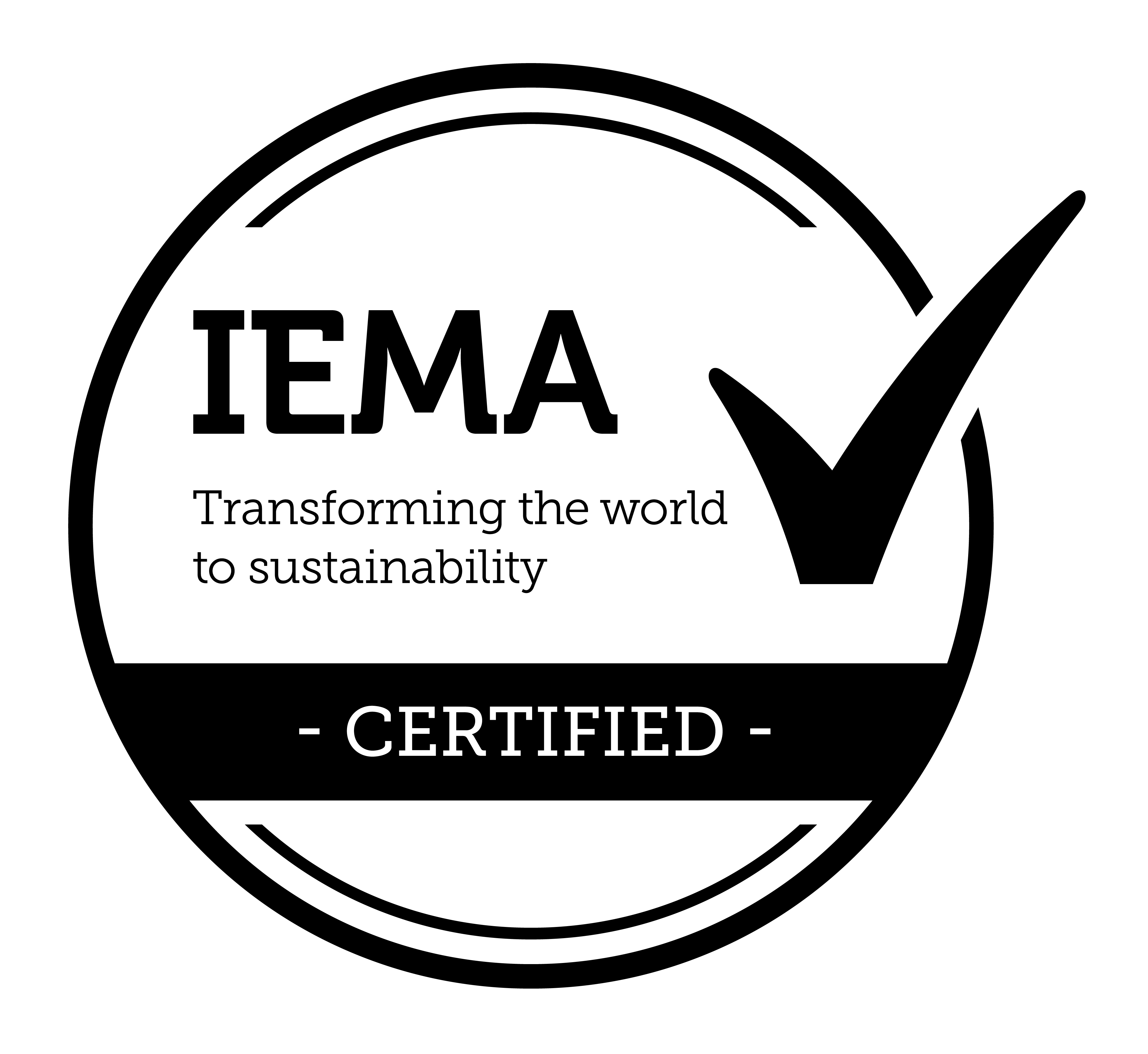 Accredited by The Institute of Environmental Management & Assessment (IEMA)
---
Alumni profile
The course combined my interests in environmental issues with the behaviour of both individuals and business.
Jeff Wilson, BA Environmental Sustainability
Read more
Rankings

Top 5 in the world for Environmental Studies
Course terms and conditions
Course content
The programme is designed around a combination of compulsory core modules, as well as opportunities to choose optional modules that allow you to follow areas of personal interest through our specialist pathways.
Your first year provides you with the core skills and knowledge in your field. From year 2 you will have the opportunity to take modules in a chosen specialist pathway. Each of the pathways focuses on a particular aspect of your overall degree, providing specialist training for employment in that sector:
Business and Sustainability examines the interactions between these two spheres and equips you for a career in corporate social and environmental responsibility.
Energy and the Built Environment focuses on transport and energy and develops skills for a career in policy and planning.
Natural Resources and Biodiversity takes an interdisciplinary approach to biodiversity and natural resources management, preparing you for a career in environmental consultancy.
Earth Systems gives you in-depth knowledge of climate change, pollution and regulation, mixing social and natural science.
Course structure
These are typical modules/components studied and may change from time to time. Read more in our Terms and conditions.
For more information on typical modules, read Sustainability and Environmental Management BSc in the course catalogue
Broadening your academic horizons
At Leeds we want you to benefit from the depth and breadth of the University's expertise, to prepare you for success in an ever-changing and challenging world. This course gives you the opportunity to broaden your learning by studying discovery modules. Find out more on the Broadening webpages.
Learning and teaching
Most modules combine lectures with practicals, workshops or seminars, depending on the subject. These are enhanced with skills classes, fieldtrips and small group academic tutorials. You can expect to study in a variety of settings, from large lecture theatres to computer clusters, seminar rooms, tutorials, laboratories and out in the field. Our state-of-the-art building is in the centre of the campus and provides an ideal working environment, and offers quiet study and coffee areas when you are not in class.
Read more about learning and teaching methods.
We offer research-led teaching across the breadth of our disciplines, from specialists in their field. As Leeds is a research-intensive Russell Group University, you'll be studying amongst staff who are at the cutting edge of research world-wide, and who will incorporate this expertise into their teaching.
Facilities
Our school boasts excellent facilities for both teaching and research; read more about our laboratories, microscopes and more.

Assessment
You'll be assessed through a variety of methods, specifically designed to help students learn, whatever their preferred learning style. We use both coursework and exams, but with a general progression from an emphasis on exams in year 1 towards an emphasis on coursework in your final year.
Read more in learning and teaching methods.
Entry requirements, fees and applying
Entry requirements
A-level: ABB , including two from, biology, chemistry, economics, English, environmental studies, geography, geology, history, law, mathematics, physics, politics, sociology.
Other subjects may be considered. Offers exclude general studies.
GCSE:
English and Mathematics at grade C or above, or an equivalent English language or Mathematics qualification.
Alternative qualifications
Access to HE Diploma: Pass 60 credits overall with 45 credits at Level 3, 30 credits with Distinction and the remaining 15 credits with Merit or above.
BTEC: DDM in Extended Diploma/3 Subsidiary Diplomas in two relevant subjects. We will accept a combination of BTECs and A-Levels. Please contact the School's Undergraduate Admissions Team for more information.
International Baccalaureate: 34 points overall, with 16 points at higher level to include 5 points in two relevant subjects.
Irish Highers (Leaving Certificate): AAABBB/H2H2H2H3H3H3 in two relevant subjects.
Scottish Highers / Advanced Highers: AABBB overall with BB in 2 Advanced Highers (AH). For non-AH applicants AABBBB. To include 2 relevant subjects.
Read more about UK and Republic of Ireland accepted qualifications or contact the School's Undergraduate Admissions Team.
Alternative entry
We're committed to identifying the best possible applicants, regardless of personal circumstances or background.
Access to Leeds is an alternative admissions scheme which accepts applications from individuals who might be from low income households, in the first generation of their immediate family to apply to higher education, or have had their studies disrupted.
Find out more about Access to Leeds and alternative admissions.
Access to Leeds Entry Requirements for this course: BBC.
If you do not have the formal qualifications for immediate entry to one of our degrees, you may be able to progress through a foundation year.

We offer:
• a specialised BSc Earth and Environmental Sciences with Foundation Year
• a BSc Studies in Science for students without a science background at A-level
• an Interdisciplinary Science Foundation Year for applicants who meet specific widening participation criteria.
International
We accept a range of international equivalent qualifications. For information contact the School of Earth and Environment Undergraduate Admissions Team.
Foundation year

If you have the ability to study for a degree but don't have the qualifications to enter directly to level one, you might consider studying a foundation year. We have formal links with the following foundation year programmes:

- University of Leeds International Foundation Year (IFY)
- Northern Consortium of UK Universities (NCUK)
- Study Group Leeds International Study Centre (LISC)

If you are applying from an alternative foundation year provider, please contact our admissions team to find out if your qualification is suitable for entry to our courses.
English language requirements
IELTS 6.0 overall, with no less than 5.5 in any component. For other English qualifications, read
English language equivalent qualifications
.

Improve your English
International students who do not meet the English language requirements for this programme may be able to study our undergraduate pre-sessional English course, to help improve your English language level.

How to apply
Apply to this course through UCAS. The institution code for the University of Leeds is L23. Check the deadline for applications on the UCAS website.
International students apply through UCAS in the same way as UK/EU students. Our network of international representatives can help you with your application. If you're unsure about the application process, contact the admissions team for help.
Read about visas, immigration and other information in International students. We recommend that international students apply as early as possible to ensure that they have time to apply for their visa.
Admissions policy
Faculty of Environment Undergraduate Admissions Policy 2019
Fees
UK/EU: To be confirmed
International: To be confirmed
For UK and non-UK EU full-time students starting in 2018, the fee for 2018/19 will be £9,250.
The fee for undergraduate students starting in 2019 will be confirmed in September 2018.
The fee may increase in future years of your course in line with inflation, and as permitted by law. For example, the increase of 2.8% in 2017/18 was based on the government's forecast for the RPI-X measure of inflation.
The UK government has confirmed that non-UK EU students in 2018-19 will have home fee status and be eligible for UK government student loans. The UK government has not confirmed the situation for future years, so keep checking our website for updates.
If you take a study abroad or work placement year, you'll pay a reduced tuition fee during this period. For more information, see Study abroad and work placement tuition fees and loans.
Read more about paying fees and charges.
Additional cost information
While the School heavily subsidises or covers the cost of all compulsory taught fieldcourses, you may have to supplement these trips depending on the destination you choose. There will however always be a free option for you to select. You may incur some costs for some optional fieldtrip modules. Full details are available on request.
Scholarships and financial support
The School of Earth and Environment offer a range of scholarships for Home, EU and International students.
Scholarships for 2019 entry are to be confirmed.
If you have the talent and drive, we want you to be able to study with us, whatever your financial circumstances. There is help for students in the form of loans and non-repayable grants from the University and from the government. Find out more in our Undergraduate funding overview.
Career opportunities
Governments, businesses, NGOs and researchers now hold sustainability at the core of their thinking about the environment and our place in it. The environment is important to everyone, but it is under increasing pressure from our demands on natural resources and the waste generated by our lifestyles. This means there's a demand for literate and numerate graduates with good analytical skills and a thorough understanding of the environmental, economic and social implications of the decisions that we make and the strategies that we use to find sustainable solutions to environmental problems.
We prepare our graduates for a range of careers. They work in a range of organisations - in small organisations and large companies or public sector organisations, such as the Environment Agency - and in a broad range of non-environmental and environmental roles, including environmental sustainability roles and environmental consultancy.
Your employment prospects can be enhanced by an MSc degree, and we offer a number of related, vocational MSc degrees in Leeds, with industry-sponsored scholarships or other funds available, including funding only available to Leeds graduates.
Read more about our
Alumni Success Stories.
Careers support
We encourage you to prepare for your career from day one. That's one of the reasons Leeds graduates are so sought after by employers.
Leeds for Life is our unique approach to helping you make the most of University by supporting your academic and personal development. Find out more at the Leeds for Life website.
The Careers Centre and staff in your faculty provide a range of help and advice to help you plan your career and make well-informed decisions along the way, even after you graduate. Find out more at the Careers website.
The School of Earth and Environment is committed to enhancing employability and offers a range of initiatives to ensure our students receive the highest level of support throughout their studies. Read about careers and employability on the School website.
---
Alumni profile
The course has given me a great basis for a wide range of careers and has changed the way I behave and think about such issues.
Read more
Jeff Wilson, BA Environmental Sustainability
---
Alumni profile
The experience I gained in research techniques, along with knowledge of a wide range of sustainability challenges, helped me obtain a placement with a company which then turned into a full-time role.
Read more
Ed Snell, BSc Sustainability and Environmental Management
Placement opportunities
Study abroad
You can convert your 3-year degree into a 4-year study abroad degree by spending an additional year overseas, before returning to Leeds to complete your final year of study. You don't apply directly to this course, instead you can register your interest with us once you've enrolled on the 3-year degree.
To be eligible for Study Abroad you'll need to maintain a good average in your assessments in years 1 and 2 and, for some destinations, you may have to show you have the necessary language skills. Read more about eligibility on the Study Abroad website.
The Study Abroad Office and the School provide guidance to help you set up a study place at one of the University's partner institutions from around the world. Find out more at the Study Abroad website.
You may also be interested in our integrated Masters, which includes a year studying in Australia, Canada and the USA. Read Sustainability and Environmental Management (International) MEnv, BSc.
Work placements
Practical work experience can help you decide on your career and improve your employability. On this course you have the option to apply to take a placement year module with organisations across the public, private and voluntary sectors in the UK, or overseas.
Find out more about work experience on the Careers website.
Year in industry
You can convert your 3-year degree into a 4-year industrial degree by spending an additional year on an industrial placement, before returning to Leeds to complete your final year of study. This allows you to gain valuable hands-on experience, and earn a salary, before you complete the final year of your degree.
The School has strong connections with industry and will help you through the search, application and interview process. You may end up working in or near Leeds, near your home, or perhaps overseas. The School will provide guidance and assistance throughout the process and will support you during your placement, liaising with your employer to ensure that your work is of value to your academic development.
Students who choose the Year in Industry option frequently receive attractive offers of employment when they graduate. The employability benefits include opportunities to:
apply your academic learning in the workplace
gain valuable work experience, as part of your degree, that will enhance your CV and job opportunities
enhance your personal development and life skills
develop your transferable skills, providing important evidence for job application forms
return to your final year of studies with enthusiasm and a better appreciation of the opportunities available to you as a student at the University of Leeds.
Read more about Year in Industry on the Year in industry on the School website.
Fieldwork
Fieldwork will be an essential element of your degree, and is one of the most enjoyable and sociable parts of the course for students and staff alike. We offer opportunities for fieldwork during all years of study, both in the UK and abroad. For example, our Year 2 students travel to Amsterdam to study topics such as water management, sustainable transport and sustainable energy. Field classes are closely integrated with lectures and module coursework in order to offer an excellent opportunity to get hands-on experience and develop practical research skills. A project in Year 3 offers you the chance to undertake research in a topic of your choice with the benefit of expert academic guidance.
Because we recognise the value of field experience the school covers the transport and accommodation costs for all compulsory taught fieldcourses and many optional field trips.
---
Alumni profile
On the field trip to Amsterdam we conducted research on sustainable cities, gaining first-hand experience in some of the research techniques we'd been studying over the past two years.
Read more
Ed Snell, BSc Sustainability and Environmental Management