School of Earth and Environment
Sustainability and Consultancy MSc
(Full time / Part time) 2018 start

Overview
Key facts
Start date:
September 2018
Duration/Mode:
12 months full time
24 months part time
UK/EU fees: £9,500 (total)
International fees: £21,500 (total)
Entry requirements:
A bachelor degree with a 2:1 (hons) in a related subject.
Language requirements:
IELTS 6.5 overall, with no less than 6.0 in any component
This course has an optional work placement
The Sustainability and Consultancy Masters offers a grounding in the broad range of sustainability topics beyond just environmental issues (from project development to corporate sustainability strategy). It will also develop the professional skills you'll need.
Sustainability is an integrated issue across our teaching, rather than separating the environmental, economic and social elements.
Specialist modules are delivered by academic staff, practising consultants and other practitioners, giving you exposure to real-life, international case studies with a good understanding of contemporary management techniques and solutions.
This course aligns closely with the challenges of sustainability and the skills that employers say they need to tackle those challenges, with a strong emphasis on project skills.
Alumni Profile
"The banner 'MSc Sustainability' allows you to not only meet people on your own specific course but on the other ones too."
Shona Brown, MSc Sustainability and Consultancy, 2014
Course highlights:
Our course was the first qualification of its kind in the UK.
In the first semester you can choose an optional free 2 day field course to East Yorkshire. Learn about issues affecting sustainable economic development and environmental management in a developed world context.
A major component of this Masters is that you will manage a consultancy project, which is usually in the form of a placement with a professional organisation. This experience plays a key role in your personal and professional development.
This is an approved Institute for Environmental Management and Assessment (IEMA) course and is widely recognised by employers as a real benefit for anyone in a role with environmental responsibility.
The programme manager is Paul Abbott.
Accreditation
This is an approved Institute for Environmental Management and Assessment (IEMA) course:
This means once you graduate you are eligible to become an IEMA Graduate Member – GradIEMA - the first stage towards full professional chartership.
You are also eligible to take-up free student membership.
IEMA supports individuals and organisations to set, recognise and achieve global sustainability standards and practice.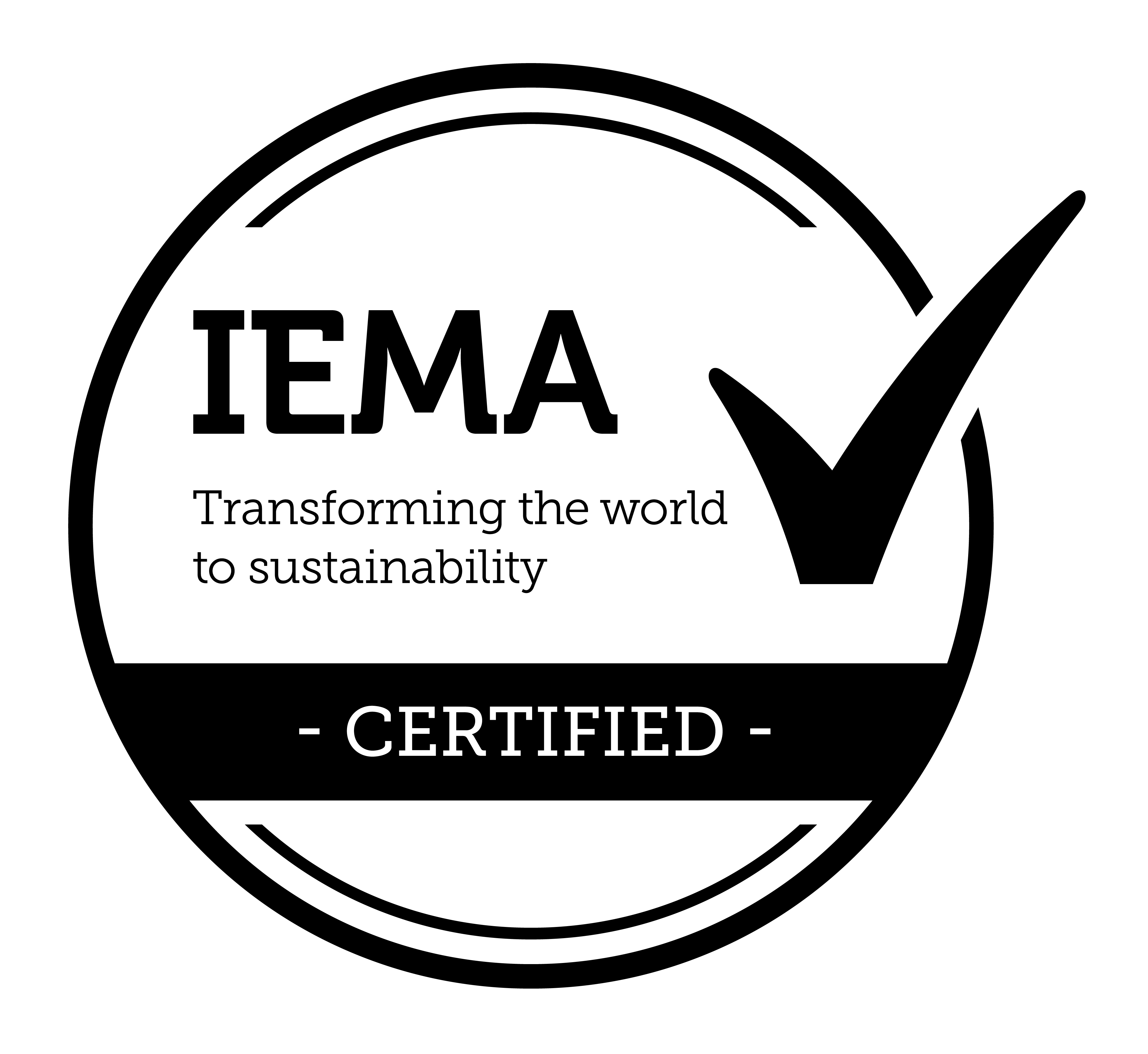 Exemptions
If you complete an additional assessment during semester two and pass the degree, you automatically qualify. A step which usually requires an additional exam after a period of workplace experience.
Course terms and conditions
Course content
The course is split in to 3 semesters if you study on a 12 month full-time basis. In the semester 1, you will take lectures and seminars which lay the theoretical foundation needed for you to gain an in-depth understanding of sustainability topics.
In semester 2, you will focus on you applying this knowledge through case studies and on practical professional skills development.
Throughout the year, you can also take part in personal development workshops and activities including networking with project hosts, helping you secure a successful research project for semester three.
In semester 3, the focus switches to individual work, where you will deliver a project usually carried out on a placement of around 10 weeks.
You will then present the progression you have made in your project around the end of June, and submit your final dissertation in late August.
The course runs for 24 months on a part-time basis, with each year split into 3 semesters. You will take 2 taught modules in semesters 1 and 2 each year, followed by a full-time project placement in semester 3 of your final year.
Course structure
These are typical modules/components studied and may change from time to time. Read more in our Terms and conditions.
Compulsory modules
Business, Environment and Sustainability

15 credits

Sustainability Consultancy Project

60 credits

Project Management: Developing and Managing Environmental Contracts

15 credits

Managing and Delivering Sustainability through Projects and Organisations

30 credits

The Regulatory and Planning Context for Sustainable Projects

15 credits

Introduction to Sustainability

15 credits

Issues and Cases in Corporate Social Responsibility

15 credits
Optional modules
Introduction to Ecological Economics

15 credits

Environmental Policy and Governance

15 credits

Climate Change: Physical Science Basis

15 credits
Learning and teaching
You will learn through a variety of methods including lectures, practical workshops, computer lab sessions, research seminars, field trips and project work.
The research-intensive environment of the School ensures that your course material is both up-to-date and research led.
You'll also learn the scientific and rational principles lying behind the practical approaches used in the world outside academia, so that your skills keep pace with changes in technology or the regulatory environment.
Facilities
The School of Earth and Environment's £23m building gives you access to world-class research, teaching and facilities.
Assessment
You will be assessed through a variety of ways including both written and oral assignments and exams. And through individual and group work.
---
Alumni Profile
"The course provided exactly what I was looking for – academic grounding and training in sustainability issues, and an opportunity to apply my skills to a practical project within a business setting."
Darren Holman, Environmental Consultancy (now Sustainability and Consultancy) MSc
Entry requirements
A bachelor degree with a 2:1 (hons) or above in a natural, environmental, physical, management or social science subject.
This course is ideal if you have enthusiasm for environmental debate and concern over the future sustainability of human and environmental systems.
We welcome applications if you have a background in environmental studies, geography or biology.
You are also likely to benefit from this course if you have a background in other disciplines with relevant work experience in the fields of environment and/or development.
If you are a mature applicant without a first degree or with a lower degree classification, you may be considered on the basis of your relevant industry experience and your potential for benefiting from this course.
International qualifications
We accept a range of international equivalent qualifications. For information contact the School of Earth and Environment admissions team.
English language requirements
IELTS 6.5 overall, with no less than 6.0 in any component. For other English qualifications, read English language equivalent qualifications.

Improve your English
International students who do not meet the English language requirements for this programme may be able to study our postgraduate pre-sessional English course, to help improve your English language level.

This pre-sessional course is designed with a progression route to your degree programme and you'll learn academic English in the context of your subject area. To find out more, read Language for Science (6 weeks) and Language for Science: General Science (10 weeks).

If you need to study for longer than 10 weeks, read more about our postgraduate pre-sessional English course.
How to apply
This link takes you to information on applying for taught programmes and to the University's online application system.

If you're unsure about the application process, contact the admissions team for help.
Read School of Earth and Environment advice on how to apply.
Admissions policy
Visas and Immigration
Read about visas, immigration and other information in International students. We recommend that international students apply as early as possible to ensure that they have time to apply for their visa.
Admissions policy
Link to admissions policy document
Fees
UK/EU fees: £9,500 (total)
International fees: £21,500 (total)
For fees information for international taught postgraduate students, read Masters fees.
Part-time fees are normally calculated based on the number of credits you study in a year compared to the equivalent full-time course. For example, if you study half the course credits in a year, you will pay half the full-time course fees for that year.
Additional cost information
There may be additional costs related to your course or programme of study, or related to being a student at the University of Leeds. Read more about additional costs
Scholarships and financial support
If you have the talent and drive, we want you to be able to study with us, whatever your financial circumstances. There may be help for students in the form of loans and non-repayable grants from the University and from the government. Find out more at Masters funding overview.
School Scholarships
The School of Earth and Environment offer a range of scholarships for UK, EU and International students.
Find out more about our School scholarships.
Other funding sources
Past students have secured funding through a career development loan, for details visit UK Government website.
Career opportunities
Graduates have gone on to a wide variety of careers in sustainability:
environmental consultancy and planning
corporate sustainability and corporate social responsibility
sustainability strategy
environmental and social impact assessments and project financing
environmental management
carbon reduction and energy management
stakeholder management and engagement
policy development
project management
sustainability assessment.
Graduates in recent years have taken up roles with organisations in the public, private and NGO sectors:
Consultants: Aecom, CH2M Hill, ERM, KPMG, Jacobs, JBA Consulting, Mott MacDonald, RPS, WYG
Other private sector: Arla, E.ON UK, FIRA International, Sodexo, Total
NGOs: 2degrees, Carbon Trust, CIWEM.
Our alumni are currently working in many parts of the world including Canada, Germany, India, Sweden, Trinidad and Tobago, UAE, UK and USA.
Careers support
We offer extra support and activities to help you stand out in your chosen field and achieve your career goals. The School of Earth and Environment has a strong commitment to enhancing student employability and has its own dedicated Employability Officer. Read more about our careers and employability.
We encourage you to prepare for your career from day one. That's one of the reasons Leeds graduates are so sought after by employers.
The Careers Centre and staff in your faculty provide a range of help and advice to help you plan your career and make well-informed decisions along the way, even after you graduate. Find out more at the Careers website.
---
Alumni Profile
"Being taught by practising consultants means you have the tools required to 'hit the ground running', and graduates are appealing to a wide range of organisations."
Danielle Jackson, Environmental Consultancy (now Sustainability and Consultancy) MSc
Industry links
We have successful and productive links with many partners with different perspectives on sustainability and consultancy. During your studies, you will come in contact with our network of industrial partners through teaching, personal development workshops and while undertaking your final consultancy project.
External partners include consultancy providers such as ADAS, Aecom, ERM, Jacobs, Mott MacDonald and URS in the multidisciplinary and environmental consulting fields, as well as other consultancy providers with management and wider sustainability portfolios such as Sodexo, Business in the Community and BDO.
We also work closely, on both research projects and teaching, with consultancy clients from the private sector (e.g. Arla, Hallmark, Marks & Spencer) and public sector (e.g. Leeds City Council, Environment Agency).
Our industrial partners consistently report that the combination of academic rigour, professional skills development and project management experience inherent in this degree, ensures that you will have the combination of skills and knowledge to be effective straight away.
As a result, you will be seen as 'work ready', with fresh ideas and innovative ways of working in their chosen careers.
The strong relationship with businesses and other influential organisations in the field of sustainability means that, through your consultancy project, you will be able to contribute to transforming business to prepare for a more sustainable future.
"The project certainly delivered dividends – thank you!"
Northern Gas Networks
"Being seconded has given me a great opportunity to work with lots of other consultancies (other than my placement host) and I can see how much value placements like these bring."
Graduate
"The graduates from this course are two to three years ahead of the other graduates we have been interviewing."
Leading UK Consultancy